Using Wix, Weebly, Squarespace, and all the other DIY Platforms sounds like a great way to save money…. but don't make these critical mistakes!
I'm sure you know that there are tons of options out there for building a website.  The DIY (Do It Yourself) market for websites has simply exploded in the past few years with the build up of drag-and-drop editors and SAAS (software as a service) models that promise a professional and functional website — that you can DIY — in about an hour for less than $100.
Sounds too good to be true right?  But it still sounds great and the marketing is pretty compelling.
But what they don't explain is that unless you already know how to build websites, already know what they need from a content, image and structure perspective in order to get found, you won't be able to build a good website yourself.
The other thing they don't mention is that even seasoned website designers and developers can't build a smashingly-fabulous website in an hour.  As with just about anything — to do it right takes time, skill and expertise.
But can YOU learn it?  Sure you can.  But do you want to?  Is that how your time is best spent?  Here's the thing – there are zillions of gurus and lessons and free media out there.  My mother always said "If you can read you can cook, if you can read,  you can sew…." and then you can repeat that phrase and fill in any verbs you want and it rings true.  She's right. Especially now Google and the Internet — there literally isn't anything you can't learn how to do, and learn it for free to boot.
So here's the thing – yes, there's the free stuff… YouTube videos of just about anything and everything. But most people who are running a business — especially those of you running a small or local business — probably shouldn't be spending your time learning the ins and outs of digital/online marketing, website design and development, search engine optimization (which, by the way, is a l-o-n-g game) or even Facebook and Google advertising.  You should be focusing on what your expertise is — and that's serving YOUR customers so well, giving them so much value, that they come back over and over again AND drive referral traffic to you to boot.
You can spend hours going through You Tube videos to learn first the basics of website construction and CX.  You can then pick your way through figuring out how to make all your branded elements cohesive.  You can spend even more hours picking through Facebook Blueprint and Google AdSense lessons to learn how to do that.  Between just those few things – you will have spent 100 hours online.  WHAT'S YOUR TIME WORTH?
Instead of working for yourself — for FREE — trying to learn and then execute a professional website with proper design, SEO, branding and all that, why not get it done for you?  Did you know I'm running a "Business Starter Package" right now for small and local businesses — like you — who want to get online with a professional marketing presence (beautifully branded website, business cards, brochures, Facebook & Google ads)  that won't cost too much.
I know — HOW MUCH DOES IT COST?  Well, for a limited time, you can get the Business Starter Package for $493.  Yes. You saw that correctly — $493.00 will get you:
A professional website, up to 5 pages/menu items
A brand/style guide – so your materials will always be consistent
A Facebook business page cover image matching your brand
A basic logo
Three social media ads so you can start running easy ads online
Take a look at our Business Starter™ Package examples: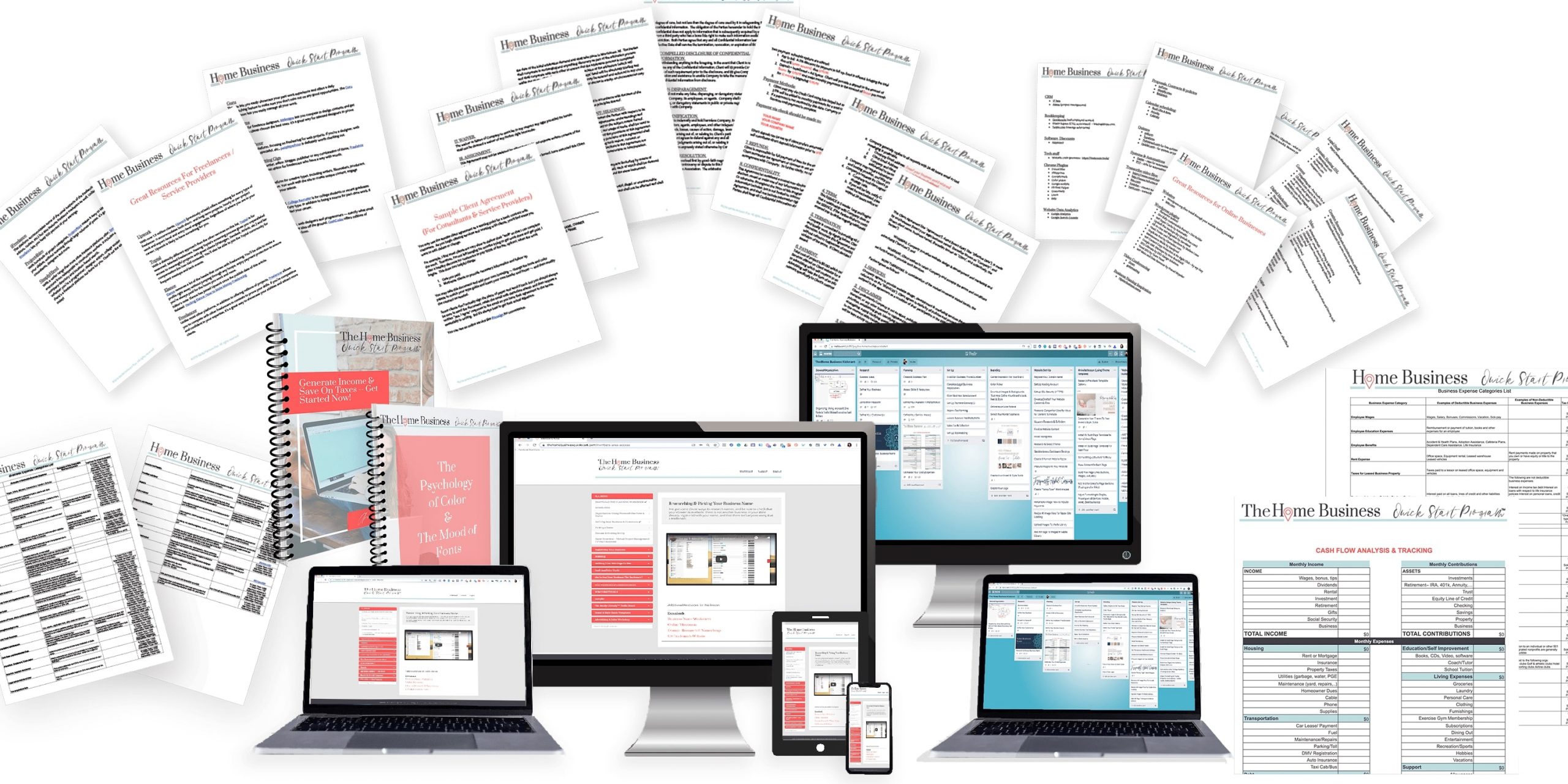 Yes — you get ALL THIS stuff for less than five hundred bucks.  How can I afford to do that much work for so little? Because this is MY business… it's what I do….. it's taken me years and years of working to develop the knowledge, tools and talent to be able to design and develop beautiful websites, brand and style guides, and social media graphics that are not only beautifully designed, but represent your business in the most professional light.
 I've been building websites for nearly 20 years — going back to the days when we used straight HTML code…. and then Microsoft Front Page came along and gave us a software-based platform to use for building websites a little more easily.  Then some time later, Adobe launched Dreamweaver, which is an amazing tool for building websites, but you practically had to be a neuroscientist to use… but it was still progress.  And now, there are so many choices — Weebly, Wix are just two of the all-in-one platforms designed for DIYers as they have a full suite of functions built in.  But you still have to understand the mechanics of a website in order to build a good one that has any hope of being found.  Adobe's DreamWeaver and the iMac APP store lookalike software Rapidweaver are great tools, but you build locally and then upload your files to your host provider, and if you don't know c-panel and hosting and managing DNS records — good luck getting that to work even if you are able to figure out how to create a nice looking site. 
And of course we cannot forget the suite of online platforms — mostly free to get and use through your hosting provider — like WordPress and Drupal, which are really great content management systems, but there's a learning curve there as well.  
Do you really want to spend time learning any of these platforms, and then learning even basic search engine optimization?  Or would you rather just pay an expert like me to get you going and keep you humming along? The smarter entrepreneurs don't do it all themselves….. they figure out WHO should do what and then go find the best person to do it.  Remember – it's WHO not HOW.  You don't need to know HOW to do everything, you need to find WHO can do it for you.
So if you're a small or local business and you're thinking about getting online – do it the right way, it'll cost you so much less in the long run.  Even if you have a website already and think you can just "take it over" by copying it to Wix or Weebly or Squarespace or any other DIY platform – know this — your search rank in google is not attached to your domain name (your business name) or your website.  Each individual page of your website is ranked individually.  Websites and domains don't have rank, web-pages do.  So unless you know how to "move" all your web pages (those that people see, AND those that are behind the scenes) to that DIY platform, and not lose your rank, you're essentially erasing your website and starting from scratch. Yes, google will see you as a brand-new, never before been listed website.  And that's not really what you want.
So be careful how you choose to spend and save your money.  There are things you can cut back on, and there are things you should never cut back on.  Your online presence should be in the hands of a trusted professional.  Don't risk losing your hard-earned google rank (remember – search engine optimization is a l-o-n-g game.
So sign up for the Media Partners Plus™ Business Starter Package and get online properly for less than $300. We specialize in helping exclusively small and local businesses.  Non-Profit?  No Problem!  We have a special discount for certified local non-profit organizations.